Arvind Ojha Desert Fellowship
Final Stage of the Fellowship Selection Process
We are happy to share that we have reached the final stage of the Arvind Ojha Desert Fellowship 2022. Based on the transcripts and the screening interviews, the first-round jury shortlisted candidates for the next and final stage of the selection process – Bajju Boot Camp.
"मरुभूमि मरी हुई भूमि नहीं है। बहुत गहरा पानी लोगों को भी गहरा बनाता है।
मरुभूमि में प्रेम है, रंग हैं, जीवन है, जीवट के साथ।
रेत के समंदर में असीम सुनहरी संभावनाएं हैं। जरूरत है नौजवानों की जो अपनी जमीन, अपना देस छोड़ किन्हीं झूठे सपनों के पीछे भागने की बजाय अपनी धरा में बदलाव रचें।"

Arvind Ojha was an experimentalist choosing to dedicate his life to social changemaking through education, working with children, making institutions and keeping people and organisations together. Someone very forthcoming to dialogue and collaborate with youth. Perhaps something that kept him innovating with community for over 40 years in social sector.
He was an artist, storyteller and a social changemaker. In his early years he wrote extensively. Prose and poetry were his forms of storytelling. He used camera to capture his times and stories, principally focusing on desert.
Later years, he committed to working with communities of Thar desert in the remote places and contexts. His innovations and models have today evolved into institutions and reflect in the people who stand tall in their values and actions.
Arvind Ojha remained a creator and a dreamer working on smallest little things and taking on challenges in desert. He responded to each silence of nothingness with hundred ways of creative changemaking. Unafraid of loving and trusting, He keeps inspiring the people he touched.
This fellowship is a celebration of his values, ideas, experiments and work. It is an attempt to take forward his work and continue building the collectives he strived for.
To foster high potential youth towards sectoral excellence and social leadership having a special bond with deserts, and eventually growing into a committed network of changemakers. We hope to see this network of changemakers evolve into a Global Desert Partnership, engaging with a wider group of thinkers, innovators, entrepreneurs, changemakers, storytellers and explorers.
Deserts are bioregions enliven with innovation, resilience and faith. Arvind Ojha Desert Fellowship Programme derives these as core values deeply ingrained in the approach & design of the programme.
The fellowship programme will be an opportunity to dream; to be mentored by practitioners and theorists alike; to live in desert; to get knowledge & resource support  and, most importantly the space to make mistakes and learn therein.
It is visualized to be a unique one-year immersive experience of living and working with desert community. Principally based on the idea of 'Plural', the fellowship will enable opportunity for collective exploration, synthesis and action.
Participants will explore the bioregion – its land, life, living; synthesize the complex socio- economic-cultural linkages of each with other(s); and, design their unique interventions to respond to those in their medium and domain.The fellowship programme will follow mentor facilitated do-it-yourself design.
Key themes the Fellows will be exposed to and work on will include Pastoralism, Rainfed agriculture, Textiles & Handicrafts, Education, Environment action, Climate change. The medium for interventions by Fellows will be diverse, broadly categorized in two segments – (a) Institution building (b) Storytelling. Various aspects in both the segments will include engaging with community, dialogue with stakeholders, designing programme interventions, writing, reading, planning, reviewing and more planning.
Fellowship Segments For 2022
Solving Small But Solving Strong
One segment of the fellowship is 'Institution building', at the core of this fellowship is to look for future leaders who are not hesitant of taking grassroots challenges, tackling disruption due to ongoing and future climate change stressors and coming up with solutions that enable green livelihoods. Unleashing the potential and the spirit of micro-enterprises as the driver of long-term sustainability, the fellowship is looking for fellows who are willing to immerse themselves in challenges at the grassroots, articulate them as problems that are affecting the communities and come up with a bottom-up business solution that can bring a positive impact in a green, fair and transparent way. Selected fellows will be working with mentors and communities in identifying one specific challenge which they would like to solve for and over the period of one year, develop it from a challenge to a solution to a micro-enterprise, they will be supported by mentors and a set of experts in making it a sustainable and saleable micro enterprise and be part of our network of distributed micro-enterprises.
Asymmetry of Human Development
The most effective way of interpreting and communicating complexities is by the means of storytelling. Deserts are full of stories. Stories of people & possibilities; land & water; struggles & resilience; music & silence; of the trees, before and after; stories of development and beyond. All these and many more deserve to be told by storytellers whose passion flows over any obstacles of limitations. The storytellers who look at art and stories as the means for beyond!
One of the two segment for the fellowship programme this year is storytelling. We are looking for storytellers who very strongly desire to look at desert and human conditions through art, and, use their unique medium to tell a story. The medium used by the fellow could be cinema, writing, music or any other capturing the imagination and attention of reader or viewer. Fellow will work closely with a set of mentors to refine the theme, idea and the product,  justifying one full year of work by the fellow.
How The Fellowship Will Work
The Arvind Ojha Desert Fellows will operate out of a desert village in selected field area. They will get two months of time to acquaint themselves with the local culture and people. During this period, they will be mentored by range of experts and thought leaders. In the two months the Fellows will come up with their intervention ideas. Fellows will use the balance of their Fellowship duration to develop their idea into an institution or a story product. During the entire duration series of thematic dialogues, discourses, panel discussions, mentoring sessions will be organized.
Dreamers who are responsive and sensitive towards environment, community, diversity and culture
Who are creative and have the ability to think critically and analyze
Have a strong resolve to act upon grassroot issues, opportunities, challenges
Is a leader in thinking and work approach
Is guided by values and principles
Any individual between the age of 18-40
Can come from any region (rural/ semi-urban / urban), nationality or gender
Should have at least completed schooling education till 12th or equivalent
Should be nominated by someone who knows the nominee well. (Village Head, Institutional Head, Mentor, Teacher, Line Manager or any community elder).
Should be very adaptive to diversity and local culture & lifestyle
Should be committed to relocate to a village in the desert for 1 year
Should be willing to develop a vision and willing to work on a rigorous action plan during the course of fellowship
One year Fellowship to five high-potential individuals
Bespoke mentoring by domain experts and sector leaders throughout the programme
Fellow gets up to INR 5 lac per annum grant custom designed to finance the Fellow and the Fellowship project
There will be a two-stage selection process for the fellowship. All the Fellowship applications received will be thoroughly screened by the longlist jury comprising of mentors. This screening will primarily be based on the nomination received for the applicants and the response given by the applicant in the application form. Additional virtual interviews may also be set up. All the long-listed candidates will be invited to participate in a 5-7-day 'Maru camp' at a location in Rajasthan. All costs for the Maru camp will be covered for the candidates selected to this stage. Final set of Fellows will be selected during the Maru camp, basis their performance and potential mapping by Final Jury.

Arvind Ojha Desert Fellowship
Arvind Ojha Desert Fellowship, First Cohort – 2023
We've been hard at work these past two months reviewing many applications, interviewing candidates, and reaching out to find the most promising changemakers ready to work for and in the community. We are excited to inform you that we have shortlisted the most promising fellows through the boot camp. Names of the fellows for the 1st cohort of the Arvind Ojha Desert Fellowship are as follows –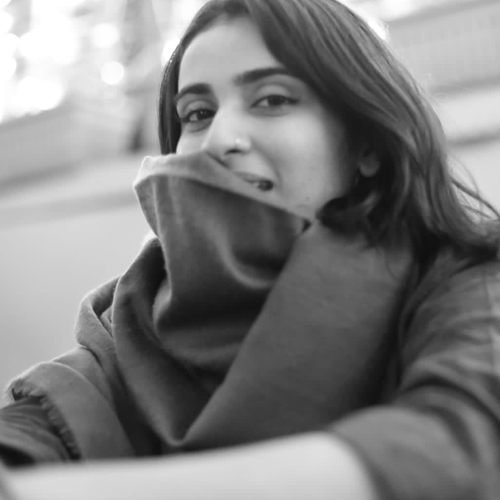 Twarita
Twarita is from Jodhpur. She completed her graduation in Psychology Honors from Maharaja Sayajirao University in 2022. Her inclination towards art began during her school years, where she explored graphics, terracotta, and engaged in conversations. Before the fellowship, she gained some experience in documentation, focusing on exploring relationships with water and victims of POCSO (Protection of Children from Sexual Offenses). She feels that her formal education, especially her graduation, has imposed limitations on her creative expression. However, she has continued to push boundaries and express herself through strokes of black and colorful crayons. The fellowship provides Twarita with an opportunity to imagine and be a part of a domain she has chosen: water and children. Water, for her, is not just a living entity that flows; it holds moments of beautiful calming uncertainty and contradictions. As someone living in the desert, she finds hidden aspects of water, playful and innocent, much like children who are unaware and unafraid of themselves. The word "water" for her transcends the ability to quench thirst, as it evokes what the eyes see and a shiver that resembles the sound of silence.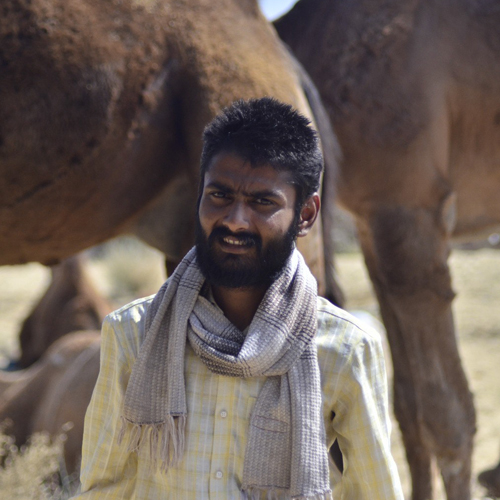 Rakesh Yadav
Rakesh hails from Hoshangabad, Madhya Pradesh. He draws inspiration from the writings of social development leaders and aspires to follow in their footsteps. Over the past 8 years, he has actively engaged in teaching and learning with children and youth within the social sector. For the last 5 years, Rakesh has dedicated his efforts to capturing stories of social change by collaborating with artists and incorporating his art as a means of driving social change.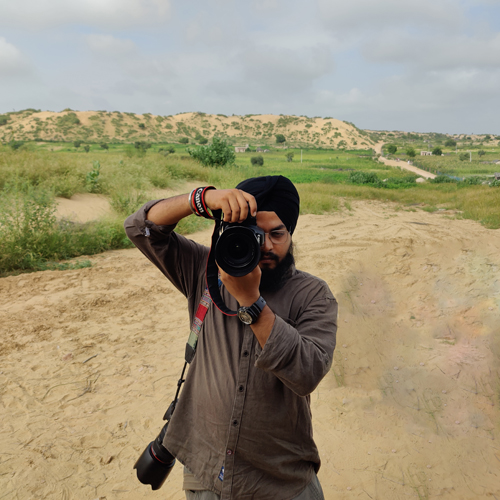 Sunpreet
From Delhi, Sunpreet has always had a keen interest in films and videos, which led him to study Mass Media. He graduated in Journalism and Mass Communication from IP University. He started working as a freelance photographer and producing video coverage for live events of music bands and festivals. From 2019 to the present, he has been shooting non-fiction films for the development sector. While on a project in Western Rajasthan, he discovered that the desert biodiversity is incredibly interesting in terms of landscape, environmental patterns, cultural knowledge of natural resources, and stories of the land, life, and living. He expects the fellowship to provide a platform for sharing the stories of the desert.
Tony
Tony hails from Gurugram, Haryana. He has successfully completed his bachelor's degree in Agriculture Sciences. Tony chose to pursue agriculture sciences with the intention of working at the grassroots level alongside small and marginalized farmers. Prior to the fellowship, Tony gained valuable experience working in climate-smart agriculture and holistic rural development programs. He aspires to contribute to the reduction of input costs in agriculture and play a role in transforming lives and shaping the future of society. This fellowship opportunity will greatly assist him in achieving his goal of promoting sustainable agriculture.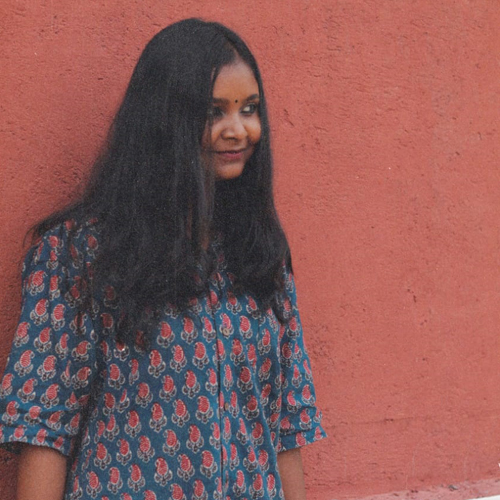 Tejaswi
Tejaswi Singh is a native of Fatehpur, Uttar Pradesh. She graduated from the National Institute of Fashion Technology with a degree in Fashion Design, Rae Bareli and is an alumna of SLS DAV, Delhi. Tejaswi believes that provoking one's thought process is an important element in life, and she portrays the same in her work. She experiments with her core ideas of abstraction and blends them with the original to maintain antiquity. During her Graduation Project at IMARA in Bangalore, and her workspace exposure at Medhya in Jodhpur, and Design Executive at Desert Resource Centre, Tejaswi had the opportunity to work with a brand label and on Desert Designs, exploring multiple sectors of design. Her experience of nearly 3 years has enabled her to excel as a Desert Fellow, where she focuses on storytelling through graphics, illustrations, fashion, and photo stories.